Last Updated on July 17, 2021
Can't decide where to stay on the golden beaches of the Oaxaca coast? Take a beach style quiz to find your perfect match! Then get travel tips on how to get there, where to stay, and things to do at the best beaches in Oaxaca, Mexico.
Most people know Mexico's Caribbean destinations like Cancun and Tulum or the resorts of Baja California's Los Cabos. But as those destinations get more crowded, many travelers have begun looking for less-touristy Mexico getaways. I present to you the beaches of Oaxaca, on Mexico's Pacific coast.
With world-class surfing, laid-back vibes and authentic experiences, Oaxaca's beaches deserve a spot on your bucket list. Plus, a getaway to the Oaxaca coast is the perfect way to end a trip to Mexico City or Oaxaca City, especially after Dia de los Muertos.
Get ready to max out with activities and nightlife, relax with beach bliss, or find your perfect mix of both at the best Oaxaca beaches.
---
In this Oaxaca Beaches Guide:
Oaxaca Beach Style Quiz | Puerto Escondido Beaches | Puerto Angel Beaches | Oaxaca Sea Turtle Conservation| Huatulco Beaches | Getting to the Oaxaca Coast | Best Things to Do in Puerto Escondido | Best Things to Do in Huatulco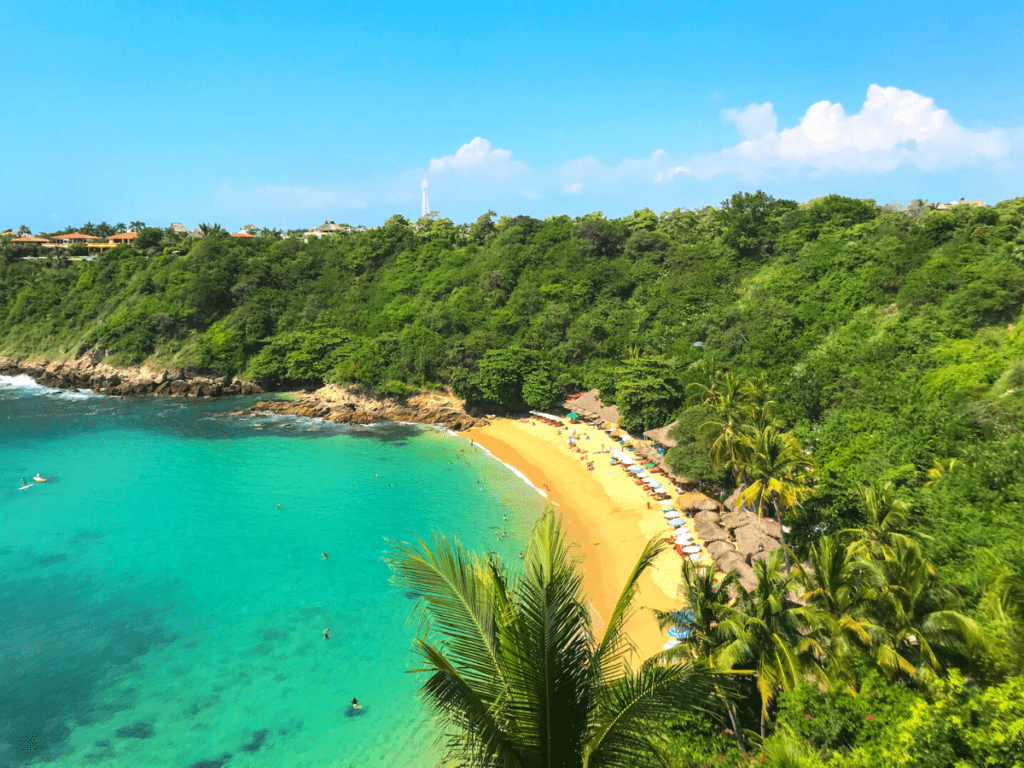 This article contains affiliate links. If you click through and make a purchase, I might earn a commission, at no additional cost to you. Thanks for your support in this way! Learn more in my Disclosure Policy.
---
What's Your Oaxaca Beach Style?
Click on your #1 beach priority below, and I'll make a love match! (But don't worry, you can still read about all of the beaches and be sure I chose correctly!)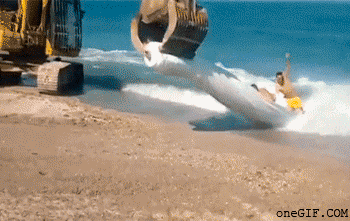 ---
Top Sights of Oaxaca
---
Puerto Escondido Beaches | Best Oaxaca Beaches
Oaxaca's largest beach town, Puerto Escondido, has so many beaches that most travelers can find their perfect stay here. Taxis are inexpensive in PE, making it easy to see all the beaches and sights here without renting a car.
Playa Zicatela: Best Beach to Stay In the Center of Surfing & Nightlife in Puerto Escondido
Love to surf? Want to enjoy beach bars and restaurants during the day, and live music and nightlife as the sun goes down? Then Playa Zicatela is the best Oaxaca beach for you!
During the day, Zicatela's waves make it one of the top 10 surfing destinations in the world. And its wide beach, lined with hotels, bars and restaurants, is the heart of Puerto Escondido. You don't have to go far to grab a great meal, find a cold drink, and have some fun at the many beach bars and restaurants of Zicatela. Playa Zicatela is also good for solo travelers, as there are lots of hostels in the neighborhood.
Zicatela is not a swimming beach because of the strong waves and currents. But it's easy and inexpensive to catch a taxi to other PE beaches like Carrizalillo, Angelito or Manzanillo for an afternoon.
Stay:
$ Casa Daikiri | Guesthouse with dorm beds and private rooms, shared kitchen, and pool
$$ Selina Puerto Escondido | Chic hostel with a pool and shared spaces; dorm beds and private teepee tents are the most affordable room options
$$ La Playita Beach House | Quiet, comfortable rooms with a terrace; shared lounge, kitchen and pool
$$$ Villa Palmas Zicatela | 6-bedroom house with private pool between Zicatela and La Punta, 500m from the beach; full kitchen and terrace with palapa
Eat:
El Cafecito, Cafe Ole or Elephant Garden for breakfast or brunch. Jardin Escondido for sunset drinks. El Coste Cevicheria, Mar and Wanu, Tribu Restaurante or Fresh Restaurant & Lounge.
Want a more small-town vibe? Also check out La Punta in Puerto Escondido, another chilled-out surf destination.
Not ready to commit? Match again!
---
Playa La Punta: Best Beach to Chill Out With Surfing In Puerto Escondido
La Punta (sometimes called Playa Punta Zicatela or Brisas de Zicatela) is another great Oaxaca beach option, at the southernmost section of Playa Zicatela. The smaller waves of La Punta make it better for less experienced surfers. It's also perfect for travelers looking for a chill yet up-and-coming vibe with bars and restaurants on the beach. Locals say that it's what Puerto Escondido was like 20 years ago, so stay here and you can be one of the ones to say, "Oh, I've been staying in La Punta forever…"
It's a 20-30 minute walk down the beach to the main section of Zicatela, but it's best to make the walk during the daytime. Take a taxi or use lighted sidewalks instead of walking down unlit beaches at night.
Stay:
$ Bonita Escondida | Hostel a few blocks from the beach with pool, bar, and lounge
$$ Bikini Beach House | Simple hotel with beach access and private balconies on the main strip in La Punta
$$ Punta Playa Zicatela | Beachfront hotel with a rooftop terrace, beach chairs for guests, and AC
$$$ Casa Alegria | Private villa for 10 with resort pool and bar access
Eat:
Piyoli La Punta, El Salvador or Alaburger for burgers and pizza.
Want more action? Check out Playa Zicatela, another surf-perfect beach at the heart of Puerto Escondido.
Not ready to commit? Match again!
---
Playa Carrizalillo: Best Beach to Swim & Bliss Out In Puerto Escondido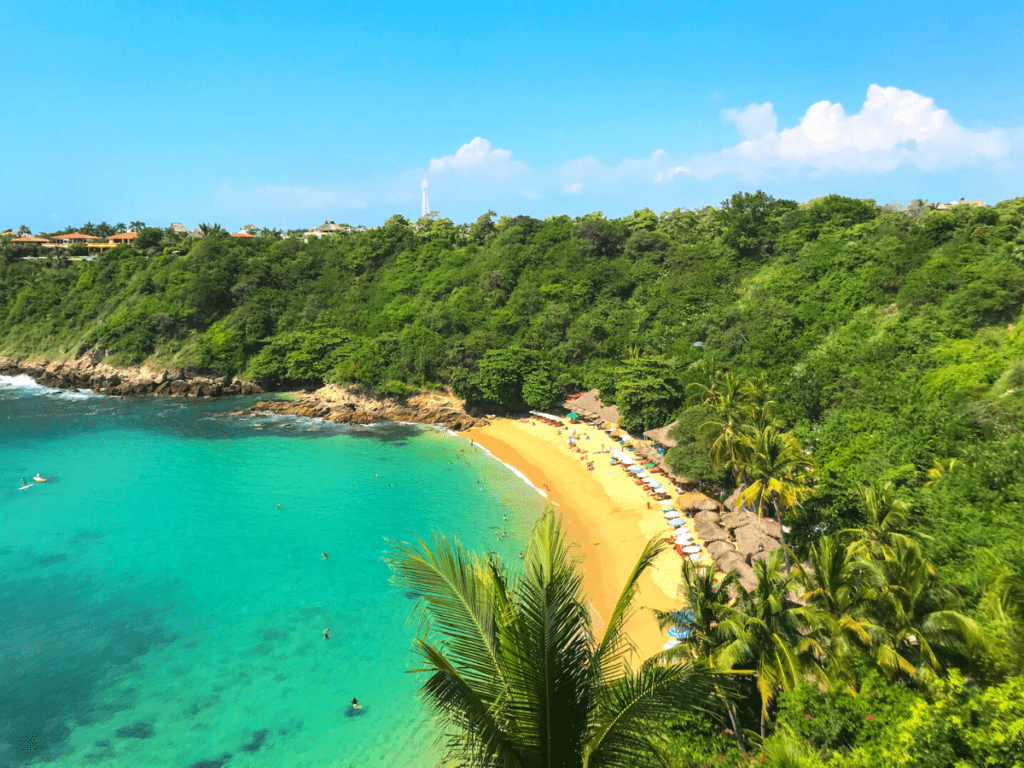 Your first views of Playa Carrizalillo's crescent beach and turquoise water will stay with you for a lifetime. Carrizalillo is the best Oaxaca beach for someone who wants to be able to swim and paddleboard, and even learn to surf, in its calm cove. Getting there is a bit of a chore: it's 157 stone steps down from the parking lot to beach level. Luckily, it's worth it, and there are thatch-roofed beach bars with beers and tacos to help you gather strength for the return trip!
To use beach loungers with umbrellas here, you'll be expected to spend around 200 MX in food and drink (less than $10 US); tables are a little less. Bring cash for the beach bars. You can rent bodyboards,surfboards and paddleboards here and also take surfing lessons.
The full-service restaurants in La Rinconada neighborhood are stellar, making Playa Carrizalillo a great match for beach-loving foodies who want a quiet stay. Plus you can always grab a taxi to other beaches for a day trip or evening out.
Stay:
$ Bonobo Guest House | Bright hostel with shared living space and kitchen, plus a pool
$$ Suites La Hacienda | Rooms and suites with a pool in a lush jungle setting. I stayed here and it was an absolute oasis with large, comfy rooms!
$$$ Villas Carrizalillo | Boutique hotel with dramatic views, pool, stylish rooms and upscale restaurant (breakfast included)
Eat:
El Cafecito for breakfast/brunch. Don't miss Espadin at Villas Carrizalillo or Estrellas Gourmet for sunset drinks and dinner at least once during your stay. And also check out Turtle Bay, Almoraduz, Metxcalli or El Nene.
Looking for a hipper vibe? Also consider Playa La Punta in Puerto Escondido.
Not ready to commit? Match again!
---
Playa Bacocho: Best Beach to Unwind with Sea Turtles & Seclusion in Puerto Escondido
Puerto Escondido's Playa Bacocho is an idyllic, quiet beach with a big bonus: a sea turtle conservation group here releases baby turtles at sunset during hatchling season. Learn more about sea turtle conservation efforts in Oaxaca here.
Playa Bacocho is the perfect Oaxaca beach for travelers who want to lounge on the beach, relax by the resort pool, or stroll along the long stretch of golden sand. The setting is the draw of this beautiful beach, as the hotels here and their restaurants have mostly average reviews.
For day trippers, Club de Cocos and Villasol are beach clubs that offer beach and pool access with a minimum food and drink spend (around $10 US). It's easiest to get here by taxi.
Playa Bacocho is not good for swimming, due to strong rip currents. Instead, follow the rocky path at the southern end of the beach to find the calmer and even more secluded Playa Coral.
Stay:
$ El Capitan (Airbnb) | Chic Airstream trailer with outdoor shower and kitchen, plus access to Hotel Villasol amenities
$$ Posada Real | Beachfront hotel with 2 pools, beach club and restaurants
$$$ Hotel and Suites Villasol | Simple, modern hotel with restaurant, bar, pool and shuttle to its beach club
Eat:
Pez Gallo, at the beach club for Hotel Villasol, is the best place on the beach for sunset.
Looking for getaway with a little more activity and more restaurants nearby? Check out Playa Carrizalillo in Puerto Escondido.
Not ready to commit? Match again!
---
Playas Puerto Angelito & Manzanillo: Best Family-Friendly Beaches with Snorkeling in Puerto Escondido
Looking for a family-friendly swimming beach in Puerto Escondido? Puerto Angelito is a calm, protected cove perfect for swimming, paddleboarding, and even snorkeling. Local families like this beach, and you can also take boat trips from here to see sea turtles and dolphins in season. This beach is in the same bay right next to Playa Manzanillo, which has a similar laid-back vibe but is less crowded. It's best to bring cash for the restaurants and amenities at both beaches.
Stay:
The closest options are all Airbnbs, or stay at one of the recommended hotels at nearby Playa Carrizalillo
$ Suite Coral | Airbnb 1-bedroom apartment close to Manzanillo and Angelito beaches
$$ Casa Caitlin | Airbnb 2-bedroom house
$$$ Oceanfront 5-bedroom house | Airbnb with a pool and a view
Eat:
Smoked Fish Taco has stellar tacos. Los Buzos and Mi Último Amor are some of the better beach bars, and check out the restaurants of nearby neighborhood La Rinconanda at Playa Carrizalillo.
Want a family-friendly destination with easier beach access? Check out Tagolundo in Huatulco.
Not ready to commit? Match again!
---
Hotel Escondido & Punta Pajaros: Best Beach to Disconnect, West of Puerto Escondido
Want to truly disconnect, in a sophisticated setting? You've found your perfect Oaxaca beach! Set on a serene and secluded beach about 45 minutes from Puerto Escondido, Hotel Escondido has rustic yet chic palapa bungalows overlooking a pool and beach. Spend your days lounging and surfing, or take a day trip to the nearby Laguna de Manialtepec or artist collective Casa Wabi. Hotel Escondido is remote, so expect to have your meals at the hotel restaurant with an ocean view.
Or stay at one of the beachfront eco-villas of Punta Pajaros, with a kitchen, living space, terrace and pool overlooking the ocean.
Stay:
$$ Casa Tiny (Airbnb) | Stunning beachfront "tiny house" for an off-the-grid getaway
$$$ Hotel Escondido | Eco-chic, adults-only luxury beach resort with restaurant and pool
$$$ Punta Pajaros (Airbnb) | Idyllic beachfront eco-villas with private pools and catering option
Is this destination too remote for you? Check out Playa Bacocho in Puerto Escondido.
Not ready to commit? Match again!
---
Puerto Angel Beaches | Best Oaxaca Beaches
The beach towns of Puerto Angel — Mazunte, San Agustinillo and Zipolite — are known as the "Riviera Oaxaqueña." Located on the coast between Puerto Escondido and Huatulco, these beaches are popular with European and Canadian tourists and feel a bit stuck in the 70's – in the best way possible!
Mazunte and San Agustinillo: Best Beach for Hippie Vibes with Yoga, Turtles & Sealife
Mazunte and San Agustinilo are adjoining beach towns with a laid-back vibe and gorgeous natural setting. Many of the hotels here are set on cliffs overlooking the beaches, which are a nesting site for Olive Ridley sea turtles (known in Mexico as golfinas). There are three beaches in Mazunte: Mermejita, Punta Cometa, and the main beach, Playa Rinconcito, which is a little calmer for swimming. San Augustinillo also has its own beach.
Visiting Punta Cometa is a must-do hike in Mazunte. This cape is the southernmost point in Oaxaca, so both sunrise and sunset can be seen here year-round. Other Mazunte beach activities include a sea turtle research center and yoga, either on the beach or at one of the local studios. From November to March, book a boat tour from one of the boat captains on the beach to go turtle, dolphin, and whale spotting.
Stay:
$ Casa Verde | Budget Mazunte hotel close to the beach, with a restaurant and bar
$$ Posada Ziga Playa | Inexpensive Mazunte option with views and direct beach access, restaurant, and parking
$$$ Casa Lu | Boutique hotel in a central Mazunte location with a pool, restaurant, and bar; steps to the beach
$$$$ Zoa Hotel | Luxury eco-friendly hotel with pool, yoga, and private beach
Eat:
Lodeli, Cenzontle Mazunte, La Empanada, La Mora Cafe.
Want easier beach access with the same laid-back vibe? Take a peek at Playa Zipolite.
Not ready to commit? Match again!
---
Want to Learn More About Oaxaca's Sea Turtles?
Mexico's Oaxaca coast is one of the top five sea turtle nesting areas in the world, since turtles always return to lay their eggs on the beach where they were born. Mazunte is one of the major nesting beaches in the area, and lucky travelers sometimes get to experience what is known as an arribada. This is a mass nesting event of literally thousands of turtles!
Prime nesting season is June – January when Olive Ridley turtles (known as golfinas in Mexico) come ashore to lay their eggs. Ideal conditions for an arribada include high tide, a waning moon, clear waters and brisk offshore winds.
In Mexico, conservation groups must remove eggs from nests to keep them safe from poachers. Olive Ridley turtle eggs typically take 45-60 days to hatch, more than enough time for them to be found by poachers and predators.
If you visit Mazunte, check out the conservation group Centro Ecoturístico Escobilla – Santuario de Tortugas Marinas to see if you can help with a hatchling release. The 4-part video series below describes area conservation efforts and also lets you see an arribada in the first episode! (Spoiler: it's amazing!)
---
Playa Zipolite: Best Laid-Back Bohemian Surfing Beach, with Clothing Optional
Don't let the "clothing optional" part scare you away: Playa Zipolite reminded me of old-school Tulum with its laid-back vibe and boho flair. There are no big resorts here, just thatched-roof cabanas and chic yet rustic hotels. And most people here don't take advantage of the nude beach option, with the exception of the annual Zipolite Nudist festival (late January/early February – be sure to check dates before you visit!). This is a low-key destination perfect for travelers looking for surfing, strolls on the beach, and catching up on your reading list.
I missed out on staying at the hotel El Alquimista – it filled up with a wedding while I was agonizing over the decision between Mazunte and Zipolite. But I had a candlelit dinner there on the beach twice. And I'm still dreaming of my rustic cabana at Posada Mexico (warning: cold showers only!).
There's really not much to do here except surfing. Playa Zipolite is long and golden, punctuated by cliffs at either end which make it especially picturesque at sunrise and sunset. But be aware, the Zipolite rip tide is too strong for swimming. Playa del Amor at the eastern end is more protected but still not calm (and more people go nakie here, just FYI). I recommend heading to Mazunte or Huatulco for a day trip if you're looking for a swimming beach or activities.
Stay:
$ Posada Mexico | Charming budget beachfront hotel with great restaurant and happy hour. I stayed here solo and really loved it!
$$ Villa Aikia | Beachfront hotel with a chic design, AC, pool, and view of their private beach
$$$ El Aquimista Yoga Spa | Secluded, boho-chic beachfront hotel with pool, yoga studio, spa, and meals right on the beach
Eat:
Orale Cafe for breakfast. Sal y Pimienta for burgers and fish tacos. Posada Mexico for happy hour and Italian. Restaurante El Alquimista for romantic dinners on the beach (and yes, even solo travelers deserve candlelit dinners).
Does the idea of "clothing optional" make you blush? Also consider Mazunte.
Not ready to commit? Match again!
Want more tips? Grab my ultimate guide to Zipolite!
---
Huatulco Beaches | Best Oaxaca Beaches
Bahias de Huatulco: Best Beaches for Big Resorts on Quiet Bays, Plus Adventurous Day Trips
Bahias de Huatulco, referred to just as Huatulco ("wah-TOOL-koh"), is a beach region of Oaxaca made up of 26 km of coastline. Huatulco has a whopping 36 beaches tucked into nine different bays. Cruise ships stop here, and many of the developments in Huatulco are large resorts.
But don't let this sway you: it's possible to have unspoiled beaches all to yourself: some bays have been designated as a UNESCO Biosphere Reserve, protecting them from development. And rather than being densely packed with high-rise hotels, Huatulco's resorts have a lower profile and are more spread out, preserving the natural landscape.
Huatulco has the best Oaxaca beaches for travelers who want a resort experience with the option of adventurous day trips to hike, snorkel or dive, zipline, and see waterfalls and pristine beaches. There are more luxury hotels here than other towns of the Oaxaca coast.
Still, Huatulco manages to have a more authentic vibe and lacks the all-inclusive resort culture found in other parts of Mexico. The nearby town of La Crucecita is where many resort workers live, and is also a tourist destination with budget hotels, shopping, restaurants, and nightlife.
It can be difficult to decide where to stay in Huatulco and to understand the locations of the different bays. I recommend choosing an area or resort that fits your trip style, whether you want to be able to walk to shops and restaurants or just relax at the pool and beach. Or maybe Huatulco's marine life is your main interest, and you want easy access to dive trips or snorkeling from the beach. Once you decide where to stay, you can book day trips to round out your itinerary.
Check out my in-depth vacation planner including the best Huatulco beaches, or read on for my top tips for visiting!
---
Where to Stay in Huatulco
Bahia Santa Cruz
A cruise ship port with shopping and restaurants, Santa Cruz also has three calm swimming beaches: Santa Cruz, Yerbabuena, and La Entrega. Two of Huatulco's dive centers are located here, and it's possible to book local tours at the marina. Santa Cruz has a number of affordable hotel options and is a popular area to stay.
$ Hostal Azul y Blanco | Hostel in La Crucecita with dorm beds or private rooms
$$ Holiday Inn Huatulco | Budget hotel convenient to the marina with bar and pool
$$ Hotel Castillo Huatulco | Family-friendly hotel with pools, restaurants, and nearby beach club
---
Bahia Chahue
The bay next to Santa Cruz, Bahia Chahue has three beaches: Chahue, Tejon, and Esperanza, all with stronger currents. Less crowded than Santa Cruz, Chahue has shops, restaurants, and many accommodation options. There is a dive center at the marina here, and it's possible to book local tours from your hotel.
$ Hotel Plaza Delphinus | Budget hotel with pool close to Chahue beach; some units have kitchenettes
$$ Xquenda Huatulco Spa | Inexpensive hotel with spa services, pool, and gym
$$$ Quinta Bella Huatulco | Located on Playa Chahue with clean, bright rooms, pool, and excellent restaurant
---
Bahia Tangolunda
This is Huatulco's largest developed bay with many beaches good for swimming and watersports. You can snorkel at coral reefs located off Tangolunda's western beaches of Playa Ventura, Playa La Manzanilla and Playa Tornillo. The resorts here are more secluded and luxurious (and consequently more expensive). Tangolunda also has a golf course.
$ Villas Fasol Huatulco | Bright villas overlooking the sea with a pool, restaurant, private beach, and friendly vibe; breakfast is included
$$ Quinta Real Huatulco | Large, modern resort on Playa Tangolunda with restaurants, pools, and views
$$$ Las Brisas Huatulco | Large resort with pools, restaurants and great service; located on good snorkeling beaches
$$$$ Dreams Huatulco Resort & Spa | World-class resort with pools, restaurants, bars, and stellar service located on Playa Tangolunda
---
Bahia Conejo
Huatulco's eastern bay of Conejo is the least developed of the bays with resorts. Three of the beaches here are good for swimming and snorkeling; the fourth, Punta Arena, is only accessible by boat.
$$$ Celeste Beach Residences & Spa | Luxury modern apartments with a kitchen, terrace, pool and beach bar
$$$$ Secrets Huatulco | Adult-only luxury resort with private beach, pool, spa, gym, restaurants and bars
Huatulco's five other bays can be seen on day trips by boat: from west to east, they are San Augustin, Chachacual, Cacaluta, Organa and Maguey. Some, like San Augustin, may have rustic cabanas or camping; however, the only one I could find with online bookings has poor reviews so I can't recommend it.
Not ready to commit? Match again!
---
Oaxaca Beaches Transportation
Two airports serve the Oaxaca coast – Puerto Escondido (PXM) and Huatulco (HUX).
Getting to Puerto Escondido & Getting Around
Puerto Escondido's airport has connecting flights from Mexico City and Oaxaca. Airlines serving PXM include Interjet, Aeromar and Viva Aerobus. Flights can be found for as little as $100 round trip.
Mexico's ADO buses also serve the region, although it's a long and winding bus ride from Oaxaca City. (Seriously, people get bus sick on the 10-hour trip through the mountains!) If it's in your budget, I recommend flying; or find ADO bus routes here.
Once you reach Puerto Escondido (PE), taxis are plentiful and cheap at a few dollars US per trip. Expect to pay more for hotel transfers, though, and always agree on a price for taxis before you get in. You can also rent a bicycle or scooter for the day or week to get around – your hotel can typically assist with booking. There are also inexpensive colectivos (shared vans) if you're comfortable using local transport.
Renting a car once you arrive in PE could be a good option for you if you choose a more remote location or want to take day trips to Mazunte. For safety reasons, I would not recommend driving from Mexico City or Oaxaca City. If you think you'll rent a car in PE, be sure to read my guide to renting a car and driving in Mexico.
---
Getting to Puerto Angel or Huatulco & Getting Around
Huatulco's airport has connecting flights from Mexico City and Oaxaca. Airlines serving HUX include Interjet, Aeromar and Viva Aerobus. Flights can be found for less than $100 round trip. When I visited after Dia de Los Muertos, I was only able to get a flight to Huatulco – all of the Puerto Escondido flights had sold out.
You can also take a bus from Oaxaca City to Huatulco, which takes around 8 hours; find ADO bus routes here.
To get to your hotel, grab a taxi at the airport, rent a car ,or make arrangements through your hotel. Buses and local transport also run between Huatulco, Puerto Angel, and Puerto Escondido.
---
Best Things to Do On the Oaxaca Coast
The beaches of Puerto Escondido, San Angel and Huatulco offer more than just relaxation. Check out some of the best ecotourism, cultural, and adventure activities of the Oaxaca coast. It's possible to book day trips within the region, as it's only about 2 hours between Huatulco and Puerto Escondido.
The Best Things to Do in Puerto Escondido
Laguna de Manialtepec: explore this eco reserve on a day trip, or take a nighttime tour to explore its bioluminescent bay. I did the nighttime tour in early November while there was no moon, and it was hands-down on of the coolest things I've ever done. It was like being in a video game – the water really sparkled when you moved your arms!
Surfing at Zicatela: experienced surfers can try the waves at this world-class surfing beach
Sunset at Zicatela: don't miss having drinks here at sunset at least once for your stay
---
The Best Things to Do in Huatulco
Some of Huatulco's sights are accessible on your own if you rent a car. But for most destinations, especially those only accessible by boat, book a day trip online, with the help of your hotel, or at the marinas.
Snorkeling and scuba diving: take a day trip to visit the reef ecosystem
Hagia Sofia: tour an eco-park featuring exotic plants, fruits and butterflies as well as waterfalls, hiking, and ziplining
La Crucecita: shop for souvenirs
---
When to Visit Oaxaca Beaches
The tropical climate of Oaxaca's coast makes it a great year-round beach getaway. The busy tourist season is June – August and mid-December – January. Avoid the rainy season and crowds by visiting in February – May or September – November.
---
Oaxaca Beaches Packing List
---
Did You Find Your Dream Oaxaca Beach?
Did my post help you make an Oaxaca beach love match? Be sure to pin this guide for later to have my most updated recommendations when you're ready to book!
Also be sure to check out my other Oaxaca advice for more travel in the region: experiencing Dia de Los Muertos in Oaxaca, plus where to stay and best things to do in Oaxaca City!